Finns Gather At Orchestra Hall For Inauguration
It was a bright winter morning downtown Minneapolis when Finns and alike gathered at the Orchestra Hall for the inauguration. With close to zero Fahrenheit temperatures, sunshine, and fresh snow, the weather could not have been better for a Finland 100 Inauguration event. The Atrium was a perfect place to kick off our year of events, as the mobile sauna was parked out on the Peavey Plaza and visible through the glass walls. The room was packed with people young and old, near and far, with a vast spectrum of spirituality, talent, and affluence.
Very fittingly, Honorary Consul Marianne Wargelin started by stating that the theme of Finland 100 is Together (Yhdessä). She continued reading out loud the Proclamation given by Governer Mark Dayton the night before. After many hilarious "where as" statements he proclaimed that January 2017 is declared as the month of Finland 100 in Minnesota. The applauds reflected the pride of us all in our heritage and the beautiful moment to be able to share these words together.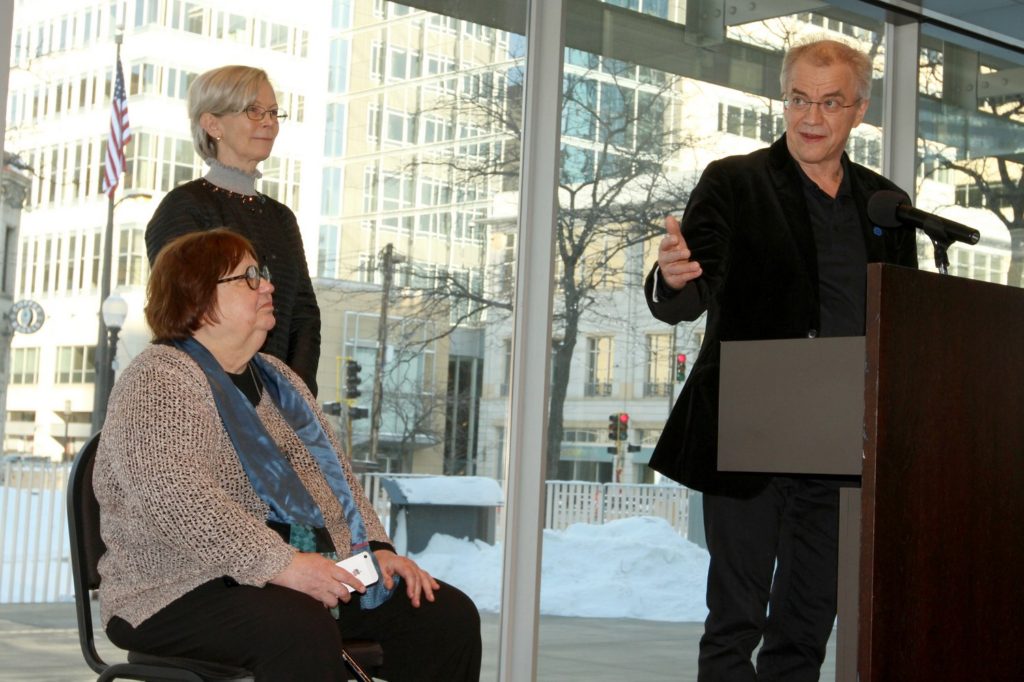 Ambassador Kirsti Kauppi, visiting from Washington DC, responded as Representative of Government of Finland. She welcomed us all to celebrate Finland, not only on December 6th, but throughout the year. It warmed our hearts to hear that her Minnesota experience has been extremely positive. Music Director of Minnesota Orchestra Osmo Vänskä, also serving as Honorary Chair of Finland 100 Minnesota, continued with insightful comments on the importance of music when the young nation of Finland was searching for identity. He credits the nation's interest in classical music to Jean Sibelius, a point that Vänskä has proved many times with superb conduction of the works of Sibelius.
Children of Suomi Koulu and Salolampi Language Village appeared on the podium and lead us all to sing together. You can find these songs by online search with their titles: "Maamme", "Paljon Onnea Vaan", and "Löylyä lissää kiukaaseen". Next we enjoyed comic and accordion artist Kip Peltoniemi reflecting on his lifelong sauna experiences and advice from Northern Minnesota. Sauna builder Keith Raisanen gave an interesting introduction to the world of sauna makers and the steps it took to create our mascot, the traveling sauna.
And so, it was time to move outdoors for inauguration and naming ceremony of the traveling sauna. Risto Sivula and Jouko Sipilä, the two enabling forces behind the traveling sauna idea of the Finnish Embassy, dressed both Ambassador Kauppi and Director Vänskä in blue hoodies to keep warm. An envelope was passed to Ambassador Kauppi, she opened it and announced the name for the sauna - SISU. What a great name for a Finnish Sauna that shall travel throughout the continent this year! The ambassador lit the fire in the wood-burning stove, smoke billowed out of the chimney, people went in the sauna to take selfies and huddled around to chat.
And so we sent off our SISU traveling sauna on this bright winter morning downtown Minneapolis.