FinnSource was there to record this historic moment when
The 612 Sauna Society of Twin Cities, MN, introduced their new Sauna to the public February 1, 2017
Surly Brewing Company has the perfect grounds to host a sauna party. The 612 Sauna Society wisely chose this spot, at the center of Twin Cities , to start the co-op functions and parking the new mobile sauna there for the month of February.
SAUNA is a Finnish word, tracing back to phonetics of the word for smoke (savu). The health benefits of sauna are world known and have new scientific backing. So we were eager to participate in this 612 Sauna Society's Launch. Why "612", you may ask, is it for the Finnish independence day of December 6?  Nope - these folks started to gather together in Minneapolis at the phone area code 612. A happy coincidence!
Surly Brewing Co had arranged a winter version of Kraftskiva, the creyfish festival of Sweden. Delicious smoked sturgeon was also served, along with Surly beer of course, all outside on the wintery deck of Surlys.
Minneapolis Mayor Betsy Hodges took the stand first, her advice to beat the bitter cold was to jump in the sauna. St Paul Mayor Chris Coleman showed an example on how not to be cold, and not to shiver, even with sub-zero temperatures. The heart of 612 Sauna Society John Pederson thanked all volunteers.
And so we went down to the backyard of Surly's to see the Sauna inside. The ground was laid with wooden grids to comfort the bare foot. Inside the black housing was an enormous space of a dressing area and the sauna heat room. The rough finish of the wall paneling gave an intence wood aroma in the large steam-room with a wood-burning stove. People sat on the bench with their winter gear on and threw a little bit of water on the stones for a hint of löyly.
To imagine all the happy moments that are to forthcome in this sauna room - great work 612 - kiitos!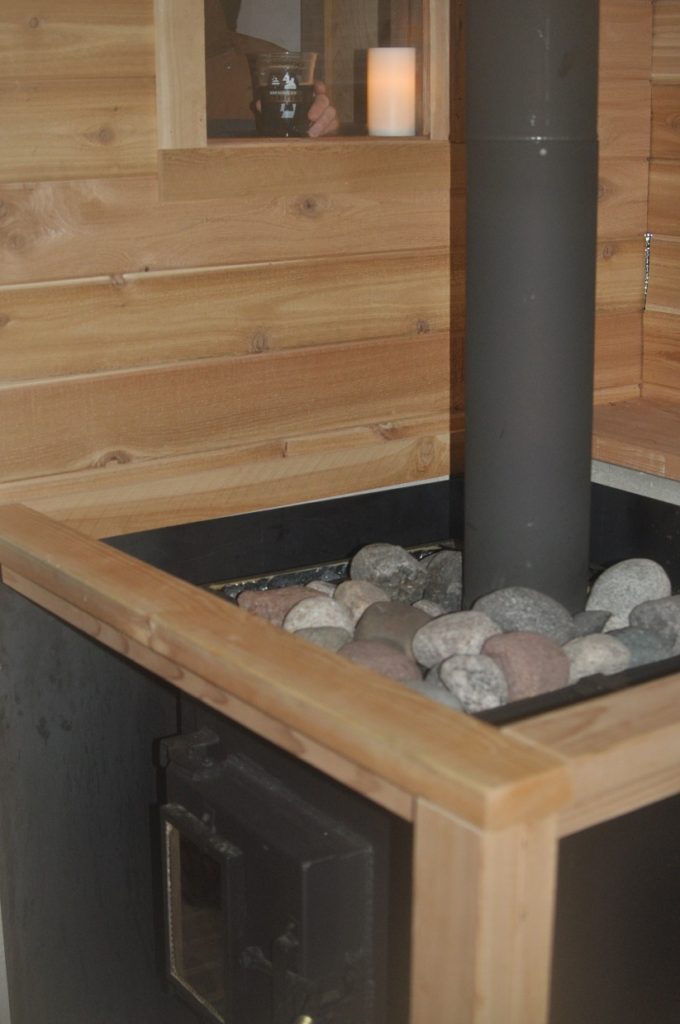 You can contact and join the 612 Sauna Society here.