By Betsey Norgard
Laskiainen - The longest-running ethnic festival in Minnesota
On February 4-5, 2017, Saturday and Sunday, the small communities of Palo and Markham, Minnesota,  welcomed hundreds of folks from near and far to Laskiainen, just as they have for 80 years.
Started in the 1930s by the Finns who had settled that area some 40 years earlier, Laskiainen ("Shrovetide") celebrates both the beginning of Lent as well as the beginning of the returning light. Looking toward a new growing season, the centuries-old custom in Finland was that people at Laskiainen would toboggan down the hills, and the family who traveled the farthest would grow the best and longest flax that summer.
But much more has kept all the people in the cars that filled two county-fair-sized parking lots coming back to Palo year after year. A big draw is the food—kropsu (Finnish oven pancake) with strawberry sauce and leipäjuusto (squeaky cheese), mojakka (beef stew), and pea soup, with lines that are long but definitely worth the wait. Or, the several rooms full of artisans demonstrating and selling traditional crafts, accordion waltzes and polkas, or many other activities. But my favorite was the historical museum, a room jam-packed with history, stories, photos, and items from Finnish immigrant life in that area—wooden skis, rag rugs, flax, wooden spoons, kanteles, and instructions on making squeaky cheese—old traditions that came alive with local residents demonstrating and telling stories.
One well-known resident and former Miss Laskiainen is Gerry Kangas, who met her husband, John, on the sliding hill at Laskiainen in eighth grade. Together, until his death in 2009, they had a big part in keeping Laskiainen thriving and developing the museum. She worked with the Smithsonian Institution in 1980 when it featured Laskiainen in Washington. 
Gerry Kangas loves to tell stories in the Loon Lake Museum about the lives of Palo Finnish immigrants.
Outside the community center, the ice slides down the hill onto Loon Lake had lines of families waiting for the ride; the less adventurous enjoyed horse-drawn wagon rides.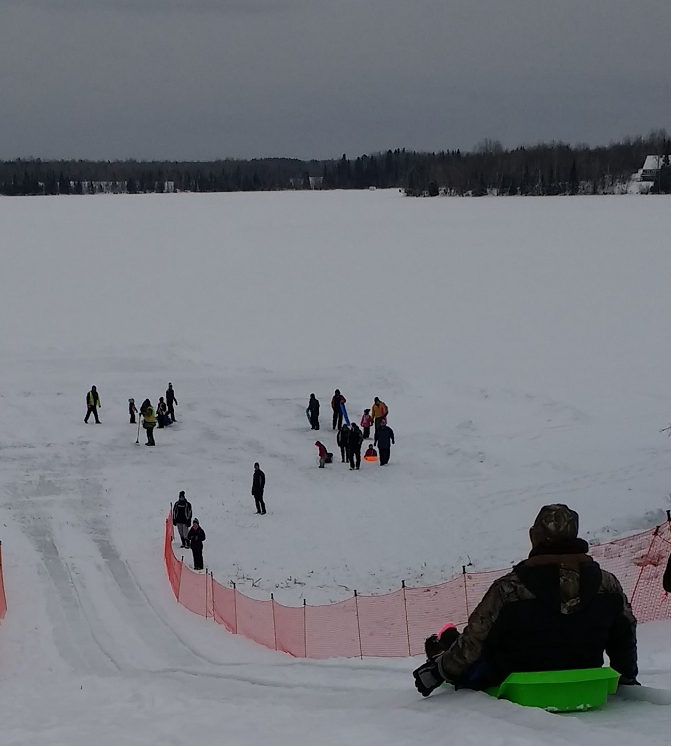 Laskiainen celebrated doubly this year—the 80th anniversary of the festival, making it the longest-running ethnic festival in Minnesota, but also the 100th anniversary of the independence of Finland. A proclamation posted on the wall declared February to be Finland 100 Month in Palo and Markham.
Today, Laskiainen is still celebrated in Finland as families go sledding and return home to eat pea soup and Laskiainen buns with almond paste, fatty foods that in olden days also guaranteed good crops.