Minnesota fairy tale Gala – Minnesotan satumainen Gaala
Once upon a time in Minnesota there was a group of friends of Finland and people with roots in Finland who had a dream. For years they had got together to enjoy concerts, sauna, Finnish chats and food, or to learn about Finland. In 2017 their dear Finland was going to celebrate 100 years as an independent country.  They all had a dream to celebrate with a gala just like the President of Finland has it every year in his castle (Linnanjuhlat). Everyone wanted to dress up and party together when the Independent Finland was to turn 100.
A Gala Committee was formed from about seven Twin Cities Finnish activists. Colorful ideas sparked around in their meetings like aurora borealis (revontulet). The bids for venues and caterers went out, followed by calls for musical performers, arrangements for decorations, search for a master of ceremony emcee, and the plans for fundraisers. People came together and opened their treasure chests at many fun-raisers:  violin and guitar music, singing, a musical, dance, and sales of Finn Stuff took place many months leading to the Gala on December 6, 2017.
During a Chamber of Commerce Euro-cocktail meeting a Finnish model and fashion leader Emmi Kainulainen connected with the local Finns. She was asked to become the Mistress of Ceremony. Her response: "Oh yes! That is something I always wanted to do!!"
Orchestra Hall in Minneapolis and Common Roots Catering were selected as the best choice and they also graciously sponsored the event.
The Wednesday of December 6 came with icy snow on the day before. Gusty wind and messy roads tested the volunteers who started to prepare the Orchestra Hall before noon. By the time of the blue moment (sininen hetki) at dusk, the tables were clad in white with white roses, candle light reflecting on silver vases, against the blue lights all around the walls. Magic (taika) filled the Lobby and the Atrium waiting for the guests to arrive.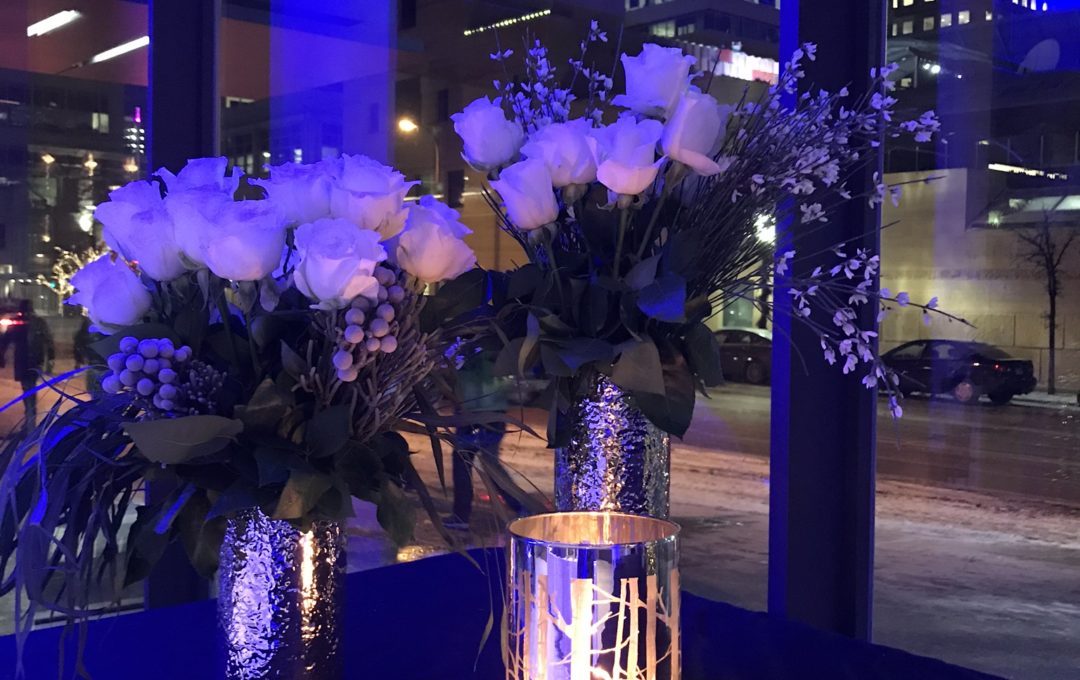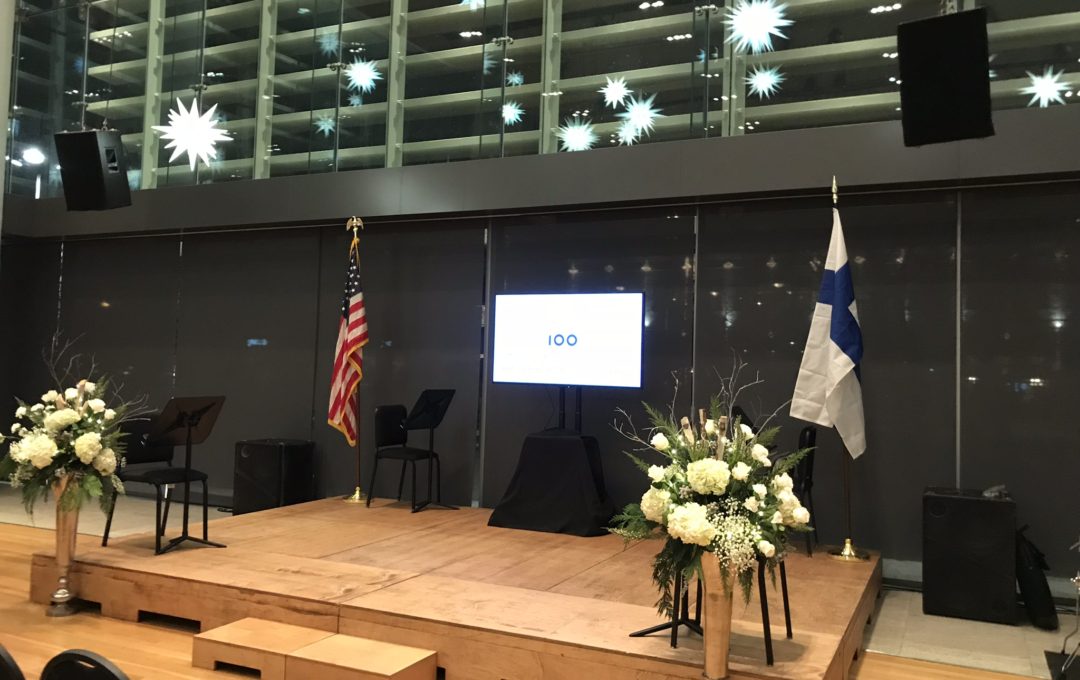 Doors opened at 6:30 pm for the 350 guests. Treats of every kind overflowed from the tables, glasses were filled with sparkling glogg (glögi) with cranberries (karpalo) happily bopping on top to announce that special occasion.  Fanfare music filled the rooms to signal that the flags had arrived and the honor guard would soon place them in the Atrium celebration room.  We greeted the flags with joyfully singing both national anthems, Maamme-laulu and The Star Spangled Banner.  Pastor John Lehtola gave the blessings in English and in Finnish. Emmi welcomed us all. On video President Niinistö and US Senator Klobuchar greeted the happy party goers.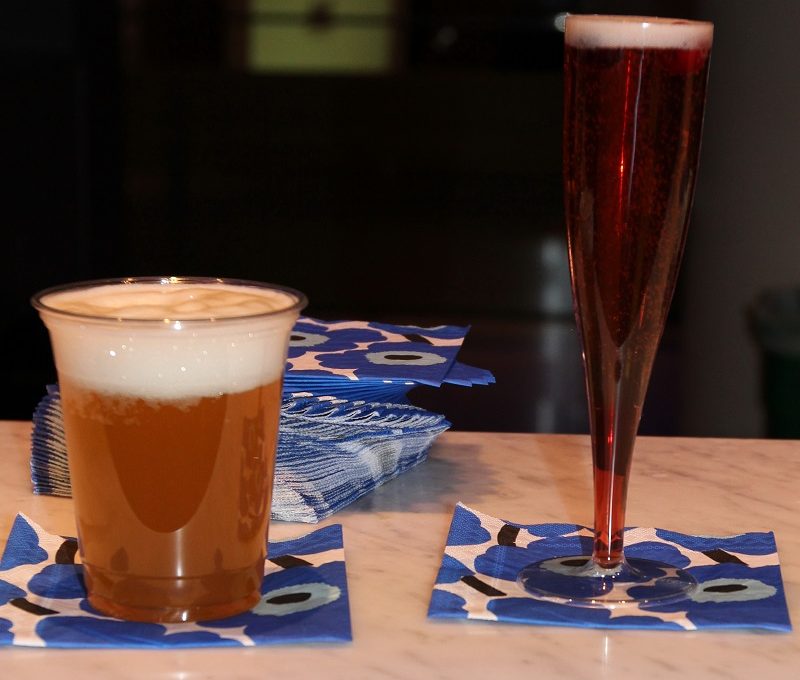 Silver Ainomäe, Minnesota Orchestra cellist born in Estonia and raised in Finland, lead his cello quartet Cellissimo to give amazing renditions of works by Sibelius, Viherluoto, and Toivanen. They topped it off with a hilarious instrumental version of a traditional song Säkkijärven polkka.
Betsey Norgard, the president of Finlandia Foundation Twin Cities, gave a warm Anniversary Greeting that made us all feel even more together.
Kari Sundström, Minnesota Orchestra trombonist born and raised in Finland, with Adi Yeshaya Trio delivered Kari's jazzy arrangements of two traditional songs. Simply beautiful how the familiar melody was riding in the back of funky beats… bringing in the new while keeping the old.
Eric Peltoniemi, Minnesota musician with Finnish roots, led the Adi Yeshaya Trio and the Finland 100 Choir to perform a traditional song and Eric's renowned song Suomi. "Always brave, proud, and free, always the better part of me – Suomi"
Emmi popped out to cheer on and sent the party goers out to the Lobby for desserts. Everyone was given a little flag of Finland, and suddenly a surprise flash mob started to sing. It was the Finlandia Hymn by Jean Sibelius. Finland 100 Choir was joined by the audience and an ocean of waving Finnish flags. The powerful lyrics brought us back 100 years, to the time when Finland struggled for independence. Tear (kyynel)
Meanwhile, the spirits of the night had prepared Atrium to a dance space! Stars hung down from the ceiling, DJ Alejandro Peltoniemi blasted out Finnish dance tunes of the last 100 years. The ladies kicked off their high heels dancing bare foot, letkajenkka, humppa, valssi, and many pop-tunes had young children and elder folks joining in. Total joy (ilo) filled everyone's mind.
Leaving the party they all had just one dream – May Finland stay independent happily ever after.
———————-
Comments and reflections:
Wonderful celebration! (Ihanat juhlat!)
Loved every minute of it!
One of the most special events I've ever been involved with.
The music was so high quality, totally enjoyed every piece!!
Thank you. Kiitos. Celebration was wonderful! Good feeling!
Kiitos to a great team! The evening had to be everything you visualized – it was wonderful.
Thank you for all the hard work you put into making this celebration an unforgettable event! The event was successful in all possible ways, what a joy. Kiitos!
The space, the food, drinks, and the music were very special. What a musical lineup – something for everyone! And wonderful acoustics in that space. Thanks for your hard work!
Sponsors:
The Gala Planning Committee thanks the following individuals, businesses and groups for their generous support of the  Suomi Finland 100 Gala in Minneapolis.
Singer Sponsors
Diane Jarvi
Sara Pajunen
Eric Peltoniemi
Finn Hall (Ralph Tuttila, Dennis Halme, Cheryl Paschke, Al Reko, Johanna Lorbach, and Jaana Tuttila)
Saana Ensemble (Sari Rönnholm, Elina Kala, Ulla Tervo-Desnick, Eeva Savolainen, and Elina Koivusaari)
Platinum Sponsors
Finlandia Foundation – Twin Cities
Osmo Vänskä
Gold Sponsors
Mirja and Sam Hanson
Kinderplatz, Childcare & Education Center
Kvernstoen, Rönnholm & Associates
Silver Sponsors
Marlene Banttari
FinnStyle
Walt Handschin
Sharl Kay Keskinen
Pam and Urho Rahkola
Susanna Siltanen
Mark Weisberg
Bronze Sponsors
Shirley Barber
Chuck and Judy Blossom
Linda A. Davis
Liisa Ojala
Carol Pesola
Vergene L. Routhe
Johanna Toninato
Joe and Mary Towner