Welcome to Finnish treble choir retreat in Minneapolis, MN on July 13-15, 2018!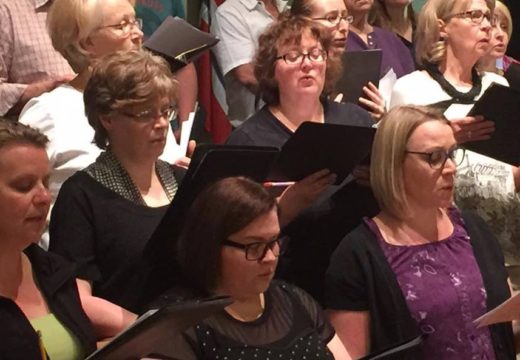 This choir retreat is intended for singers interested in Finnish music, language, and culture with some previous choral experience. During the retreat we will work on treble music (SSAA) written by female composers and arrangers from Finland, exploring many genres from folk music to Western art song.  You will learn healthy vocal technique and the retreat also includes sessions of Soma-yoga* and movement to connect our voices with our bodies and mind.
All music will be in Finnish, but teaching language will be English. All music, lyrics and mp3s of Finnish pronunciation will be available online beforehand for home-study. The retreat will be held at Christ Church Lutheran in Minneapolis, a church designed by famous Finnish architect Eero Saarinen, and included in the National Register of Historic Places in the US. The retreat culminates this group singing at worship service at Christ Church on Sunday at 10am. Service is open to all.
Instructors:  Riikka Pietiläinen-Caffrey and Eeva Savolainen; Karen Ba (Soma-yoga)
Dr. Riikka Pietiläinen-Caffrey is a visiting assistant professor of choral music at Whitman College.  Riikka holds a Bachelor of Fine Arts degree from the City College of City University of New York as well as Master of Music and Doctor of Musical Arts degrees from the University of Colorado.   Riikka is an active conductor and vocal coach and is frequently invited as a soloist, adjudicator, and guest clinician for schools and choral ensembles, both in Europe and within the United States.  In the fall of 2013 she taught choirs and western classical voice at the American University of Beirut, Lebanon. Her choirs at Whitman have received enthusiastic reviews on their beautiful choral tone and engaging performances.  In the Fall of 2016, the Whitman Chamber Singers contributed via video recording to Zodiak Dance Theater's live production of Michaela- The Queen of Everything in Helsinki. Riikka's choirs have future engagements scheduled in Europe and in the US for 2018 and 2019, collaborating with the acclaimed Finnish choreographer Laura Pietiläinen.  Riikka's research interests include vocal pedagogy, mindfulness in choirs, and the mirror neuron system. Her article "Monkey See, Monkey Do – The Choral Conductor and the Mirror Neuron System" was published in the Unites States in The Choral Journal as well as in the Australian National Choral Association's national publication, Sing Out!
Eeva Savolainen, is a soprano having sung with The Dale Warland Singers, St. Paul Chamber Orchestra Chorus and Bach Society.  She's also performed as a soloist with the Minnesota Orchestra, Oratorio Society, and toured as recitalist in USA and Canada. Most recently Eeva founded the Suomi Finland 100 Chorus to celebrate the 100th Anniversary of the Independence of Finland. The choir performed to the President of Finland during the FinnFest 2017 and collaborated with the Bloomington Symphony Orchestra, MN, in Sibelius program in October 2017. Eeva is the founder of the Saana Ensemble which toured in USA and Canada over a decade and recorded two cd's. She coordinated the the FinnFest USA 2012 in Tucson. She's been the Operations Manager of The Singers, a professional chamber choir based in Minneapolis, since 2011 and conducts a church choir in East Bethel.
*Soma-yoga combines somatics and yoga into a gentle practice for your body of today, bringing your mind into deeper connection with your muscles, inspiring curiosity, and tuning up your everyday movements.
WHAT: A Finnish Treble Choir Retreat
WHEN: Friday, July 13 6 pm – Sunday, July 15 noon
WHERE: Christ Church Lutheran, 3244 34th Avenue South,  Minneapolis, MN 55406
COST: $85 including sheet music, yoga session and lunch on Saturday
Schedule:
Friday, July 13 6 pm – 8.30 pm: Welcome, warm-up and repertoire rehearsal
Saturday, July 14 9 am – 6 pm: Warm-up, sectionals, movement/yoga-session, repertoire rehearsal
Sunday, July 15 8.30 am – noon: Warm-up, repertoire rehearsal, sing at worship service, closing
REGISTRATION DEADLINE IS MAY 31 , 2018. REGISTRATION EXTENDED UNTIL JUNE 15! Limited availability, so register early!
HOW TO REGISTER:
1. Click this link, print and fill out the form.
2. Mail the form along with the check for $85 to the address below. Make checks payable to Finlandia Foundation Twin Cities Chapter and write KUOROLEIRI on memo line.
Mail your check to Finlandia Foundation Twin Cities Chapter c/o Betsey Norgard, 23035 County Road 70, Bovey, MN 55709 by May 31, 2018. REGISTRATION EXTENDED UNTIL JUNE 15!
You'll receive a confirmation email by June 30. No refunds after June 15.
Questions? email to: suomi100chorusatgmail.com (the link is not active due spam-replace 'at' with @)